PEOPLE
AQUA GREEN Celebrates Successful End to Landmark First Year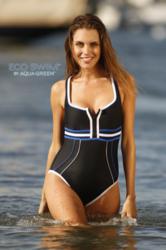 Easton, PA (PRWEB) June 30, 2012
AQUA GREEN, the world's first and leading brand of sexy and sustainable swimwear, celebrates the end of an extremely successful inaugural year. During its first season, AQUA GREEN's swimsuits were featured in the most well known magazines and were spotted on record numbers of beach-ready bodies, in iconic department stores, and at dozens of online swim sites.
In addition to being sold online and in Macys, Lord & Taylor, Everything But Water, and specialty retailers across the nation, Belk Department stores in the Southeast, Nordstrom in the Pacific Northwest and Northeast, and Dillard's Department Stores in the Midwest picked up AQUA GREEN swimwear during their 2012 season. "The company has exceeded all of its benchmarks for financial and environmental success just in time for its one year birthday," says Alex Waldman of ECO SWIM BY AQUA GREEN.
Their designer suits were splashed on pages fashion's most influential publications including Oprah Magazine, More, Real Simple, Whole Living, InStyle and Women's Health. Fashionistas and editors were not the only ones to take notice of AQUA GREEN's eco-sexy suits. Miss Earth UK and Ireland Pageant semi finalists, Gabrielle Union, Alicia Silverstone, Nathalia Ramos, and fellow celebrities on movie sets in Hollywood have all been spotted in AQUA GREEN.
AQUA GREEN is also looking forward to launching new collections at the International Miami Swim Show next month. AQUA GREEN also participated in the Miami Funkshion Fashion Show last year and looks forward to walking the hottest eco-styles of the season down the runway on July 19 at 9 PM. High Fashion designers like Isabel Toledo have attended the event in past years, and AQUA GREEN expects to be among high design again this year.
Whats more, AQUA GREEN swimwear doesnt just look good, it does good. As part of its commitment to making a difference, AQUA GREEN hosted six ocean and waterway cleanups around the country in 2012. From the Northwest to the Southeast, AQUA GREEN and their retailer partners removed nearly 3,000 pounds of waterway trash in six states and have worked with 300 volunteers. Six more cleanups are scheduled for the 2013 season.
AQUA GREEN also pioneered the use of upcycled fibers for their swimwear. Not only does using recycled fabric mean that fewer new resources must be used to make swimwear, it also means that fewer old ones are ending up in the oceans.
And for the family-owned business based in Easton, PA, keeping the oceans clean has an extra special meaning. "This business was started over four generations ago, when there was virtually zero trash in oceans and waterways," says Waldman. "While it's important to reduce our use of virgin materials and the negative impact we might have, it's also important to increase our positive impact, which is what cleaning up trash means to us. We spend each day ensuring the next four generations of our family and fellow community members will inherit a cleaner planet."
AQUA GREEN is the worlds leading sustainable swimwear brand, making suits from recycled materials. AQUA GREEN is based in Easton, PA and its swimsuits can be purchased at specialty and department stores as well as on select websites. For more information about AQUA GREENs environmental leadership, swimwear and events, visit the web site at http://www.ecoswim.com, find the brand on facebook at http://www.facebook.com/ecoswim, and follow the company on twitter @eco_swim.
Related Sexy Press Releases