ART
Blue Cloud Gallery Showcases Potter Jon Baring-Gould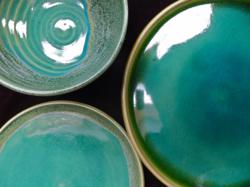 Somerville, MA (PRWEB) November 01, 2012
Blue Cloud Gallery, a unique gift gallery in Somerville, Mass. that showcases handcrafted items made by local artists, recently announced that it will be featuring the work of Jon Baring-Gould, a potter who specializes in hand-thrown stoneware bowls. For the month of November, customers will be able to purchase his bowls at a 20% savings. His bowls are made in a variety of sizes and are glazed deep, rich shades in either blues or greens. The bowls are food and oven/microwave safe, and make beautiful housewarming gifts, as well as gifts for weddings and other special occasions.
"I particularly love making bowls," said Mr. Baring-Gould. "There is something so magical and calming about sitting at the potter's wheel. The spinning wheel, the feeling as the lump of clay squishes through my fingers, manipulating the clay with tools, the creation of a bowl – there is nothing like it in the world. Whether you are eating from a hand made bowl or drinking coffee from a beautiful mug, there is something wonderful about using a work of art every day."
Mr. Baring-Gould also makes handcrafted spirit shakers. The spirit shaker is a rounded palm-sized piece based on ancient traditions from around the world; each one features a distinctly expressive face. They are uniquely crafted in clay, and when gently shaken, release energy and bring peace of mind and contentment to its owner. For further information about the work of Jon Baring-Gould and the other handcrafted gifts and art at Blue Cloud Gallery, visit their website at http://www.bluecloudgallery.com.
About the company:

Blue Cloud Gallery, located in the heart of Ball Square, Somerville, invites the public to explore the many interesting handcrafted gifts created by local artisans. This unique craft gallery, owned and operated by fine art photographer Betsy Lenora, supports local artists and helps the community discover fine artwork. As a premier provider of art for sale in the Boston area, Betsy takes pride in the local artists and their art she represents. Come and be inspired by the ever-expanding array of fun and functional items designed, created and produced to delight every visitor. For more information visit her website at http://www.bluecloudgallery.com.