ART
OCS Most Amazing Spring Break Bubble Spectacular is Back and Better than Ever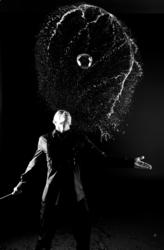 Santa Ana, California (PRWEB) March 14, 2012
BubbleFest XVI, the bubble extravaganza, returns to Discovery Science Center (DSC) March 31 – April 22, 2012. This annual spring break family event offers a look into the beautiful, delicate world of bubbles like never before.
Leading the excitement this year is Deni Yang and the Mega Bubblefest Laser Show* featuring a high-tech combination of art and science using bubbles, lights, special effects and lasers. World-renowned for his unique and stunning artistry, Yang performs multiple bubble shows daily at Bubblefest, featuring a bubble carousel, bubbles within bubbles, smoking bubbles, spinning bubbles, bouncing bubbles and bubbles in all shapes and sizes.
Bubblefest, the Science Center's most popular annual event is designed to help visitors appreciate and understand the scientific principles and mathematics of bubbles, and to let them explore the world of bubbles in a fun, hands-on environment. At the science learning stations, guests can create a bubble mini-wall, bubble domes and much more, while learning about math and science principles like surface tension, elasticity, air pressure, and geometry.
This years Bubblefest will be the biggest and most impressive outdoor festival in the Centers history. With an inflatable play zone, water spheres, and interactive science zones Bubblefest is truly fun for the entire family. Me in a Bubble* offers the opportunity for guests to step inside a giant bubble and have their picture taken.
And if thats not enough fun, guests will need to bring an appetite, because some of the top gourmet food trucks in Southern California will be in attendance during the three week festival. Chow down on delicious food from Dogzilla Dogs, Lobsta Truck, Lees Philly, Calbi Truck, The Lime Truck and many more! In addition, Orange Countys own Zovs Bistro/Caf