FOOD
Overnight Sensation; Wisconsin Sustainability Expo Is Leading the Way in Sustainable, Healthy Living.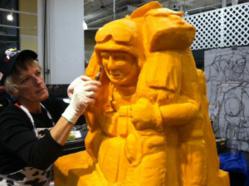 Oshkosh, WI (PRWEB) May 10, 2012
This Saturday, May 12th, 2012, Healthy Living Events, LLC presents the Sustainability Expo sponsored by the Oshkosh Northwestern, Nature's Pathways Magazine, 92.9 WXMM, Offbeat Press, Gourmet Grassfed, Rely Local-Oshkosh, and the Oshkosh Farmers Market.
The Sustainability Expo is a day-long event that promotes learning how to live a more sustainable lifestyle and includes speakers, workshops, presentations, entertainment, training classes, children's action zone, prizes and a number of exhibitors.
Activities for the day include:
Shana Conradt Book Signing:"Getting Fit with Food: 101 Healthy Eating Recipes" –

Think eating healthy food means sacrificing flavor? Not if Shana Conradt has anything to say about it. The passion and drive that define Shana Conradt are apparent in everything she does. Shana will be available for book signings in between her workshop and cooking demonstration.
Eco-Municipality Leaders –

In one of the largest gatherings of like-minded organizations and citizens in the Midwest, Wisconsin's top eco-municipality leaders join together to discuss how to make Wisconsin communities more sustainable. The distinguished list of speakers at the Sustainability Expo will discuss what is, and isn't, working in their cities in a combination of group discussions and workshops designed to give others the tools to develop programs and initiatives in their own city. Eco-Friendly businesses will also be present to answer questions and create new partnerships for the future.
True Organic Food Court -

It's a celebration of the farmers that grow food and the chefs that transform it. The organic food court offers true organic food and drinks, live music, and an opportunity to connect with other food enthusiasts. This one-of-a-kind organic food court features a variety of dishes prepared by some of the State's finest restaurants.
Organic Cheese Carving -

Sarah "The Cheese Lady" Kaufmann will be carving two forty pound organic cheese blocks into 3D masterpieces during the expo. Visitors can watch an amazing artist in action! Kaufmann is a nationally recognized and Guinness World Record holder cheese sculptor.
Mega Recycling Day –

Green Begins at Home: Recycle and Reuse almost everything! Expo attendees are encouraged to bring in their old computers, batteries, tennis shoes, eye glasses, printer cartridges, clothes, paper shredding, building materials, household items, and electronics. Visitors are also encouraged to bring all their plastic bags and bottles and help break a Guinness Book of World Records!
Tasting Safari-

The expo includes something for all ages. Children attending the event will have the opportunity to visit the WILD Food Safari! Where they will be able to taste what makes the gorilla stronger than superman, the hippo able to crush granite with its jaws, a gazelle jump higher than a basketball hoop, and a charging bull as powerful as a freight train! Its Living Food! RAW, POWER PACKED FOOD! Visitors to the Tasting Safari will be able to sample bites of over 60 crunchy, squishy, juicy, slurpy, salty, nutty, and rich foods.
Entertainment –

If that isn't enough, the expo offers a variety of entertainment that will entertain all ages. Visitors can saddle up their imagination for a ride to the Old West with award-winning cowboy yodelers KG & The Ranger. Ranger Rick twirls his lariat in a fascinating display of trick rope-spinning.
MaGicEnergy Show: It's magic when kids can learn… and laugh! That's the goal of the MaGicEnergy show! Children will get excited about energy with a special upbeat juggling performance and magic show called MaGicEnergy with Bob Kann. Through storytelling and juggling, this author will get everyone excited about saving energy and saving the Earth!
Sweet Life; rousing celtic and seafaring/pirate music: Linda Wendt and Bill Rients have been playing music together for the last 6 years. Linda has mastered many antique and historic wind instruments: flutes, recorders, whistles, krumhorns, kornholts, bagpipes and more. Bill's latest project is a collection of all original seafaring/pirate songs called 'Sweet Life" featuring lyrics from storyteller/historian Terry Hollembaek.
The Del Ray's oldies band will perform a variety of rock & roll from the 50's, 60's, and the 70's.