ART
Vendors in Indiana, Texas, Arizona, Florida, New York and California to be Featured on the PartyPOP.com Online Network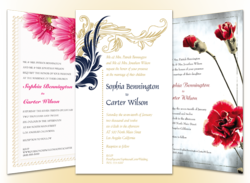 (PRWEB) May 21, 2012
PartyPOP.com recently announced free wedding invitations and an RSVP website for any engaged couple in the United States, Canada and the United Kingdom. The company has re-purposed their 2012 marketing budget in hopes of building brand awareness and loyalty. According to reports from within the Southern California based company, its working.
PartyPOP.com features over 2 million highly accomplished and professional companies in the event planning industry. Some of these companies include The Great Tiger of China Trading Company Inc., Leo's Ice Cream, Universal Ministries Rev Bill, Flowers The Clown, Fiesta Creations, Nito Gomez Caricatures and Photo Booth Rental by JNG Rentals, LLC.
The Great Tiger of China Trading Company Inc. has been bringing sparkle and fun to parties in the Austin, Texas area since 1983. The company offers wholesale party products to retailers, such as convenience stores, party shops and distributors. The products are considered as novelties by the federal government (classified as N.R.A.E- not regulated as explosive). The company offers free shipping on case purchases and liability insurance on provided products.
The Great Tiger are also authorized representatives for American Promotional Events, Inc. (dba TNT). Quality and supreme customer service are at the center of the company. Products include sparklers, confetti, smoke items, snappers, novelties, store corral and displays. The store corral and lean back displays can be set up at any stores or at a warehouse of customers choice with hats, horns, trick noise makers, champagne, party pops, snappers and more. More information can be found online at http://www.partypop.com/v/4395622.
Leo's Ice Cream is an ice cream truck for special events in Phoenix, Arizona With no event being too large or too small, the company focuses on providing high-quality service and customer satisfaction. Leo's Ice Cream provides a variety of sweet treats to choose from making sure customers will be happy working with Leos Ice Cream. More information can be found online at http://www.partypop.com/v/4395623.
Universal Ministries Rev Bill serves Tampa, Florida. Universal Ministries is a non-denominational Ministry based in the belief of the Holy Spirit of God. The Ministry performs all church related procedures including Marriages, Commitment and Renewal of Vows, Christenings, Welcoming Ceremonies, Counseling and Funeral Services. In preparation for weddings, Universal Ministries will work with the bride and groom to find the ceremony that best suits their needs and wants. Readings can be provided by the ministry or special readings the couple would like as a part of the ceremony can be included and may be read by a friend or a relative. Also offered are special inserts such as Unity Candle, Sand Pouring Ceremony, Rose and Vase Ceremony, as well as a special presentation for the bride and groom and their parents. The ministry also provides a Civil Ceremony which consists of an exchange of vows and rings. More information can be found online at http://www.partypop.com/v/4396681.
Melissa Wallace is a Clown Magician, Face Painter, Balloon Sculptures, Caricatures at Flowers The Clown. She has been a clown for over 19 years. Melissa is also a professional artist by trade and a Parsons School of Design graduate. Her goal is to provide customers with joy and repeat clientele. More information can be found at http://www.partypop.com/v/4397808.
Fiesta Creations specializes in childrens parties in Lake City, Florida. Fiesta Creations hosts family, holiday and corporate events. Events consist of detailed party packages, complete with elaborate d